This morning, our first stop was at the Småland Museum complex in Växjö. They have an Emigrant Museum there that focuses on the mass migration of Swedes to America that began in 1859. I picked up on a few little factoids worth passing along:
– First, for those of you in the Matinson clan, you may remember that the Nils Aspengren diary makes several references to a "Colonel Matson". I was surprised to see him featured in one of the displays: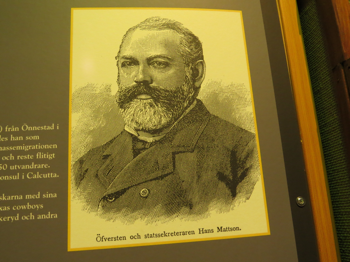 My photo of the explanatory text didn't turn out very well so I'll post that material another time. In a nutshell, he was a land agent who helped 450 Swedes travel to America in 1869, and my great-great-great-grandfather was among them.
– A display about the Janssonist movement leads me to believe that Louis (Lars) Hanson really was part of the religious movement. Again, details on that some other time.
– Did you know that the mother of Leroy Anderson (composer of "Sleigh Ride", etc.) was a Covenant Church organist in Cambrdige, MA? I hadn't previously pegged him as a Covenanter.
We drove east into "Glass Country" than south toward Kristianstad. We stopped at Ivetofta Church, where my great-great-great-grandmother Johanna Nilsdotter was baptized. (She was the wife of Christian Pearson, more about him in a day or two).
We are now staying on a farm that dates back to the 1100's. Our cottage is more than 200 years old and its foundation and cellar are older yet. Our ambitious travel schedule has finally caught up with us and we're all feeling a bit worn out, I think.
We ended our day around the kitchen table of our B&B host Lena and her children Johanna and Marten. They are eager to show us all the sights in Skåne, so we have some hard choices to make about how to spend our last two days.