Latest News
An announcement about new records on Ancestry.com caught my eye today – records from the Evangelical Covenant Church.
Previously Posted
I've been trying mightily to push my Fraser lines farther back in time, especially trying to corroborate some tantalizing Highlands connections … more...
After yesterday's post about the church records in Waverly, I started entering some basic facts about Uncle Carl Rudeen and his descendants into … more...
Good to know…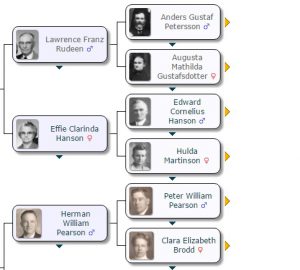 There is a companion site my Family History blog. It's the "Genealogy" site that's listed on the menu. This is a stand-alone website that contains my complete family tree. It includes maps, downloadable source documents, photos and more. You can also download gedcom files, pdf printouts, and family listings. Information about living persons is shielded from public view, but I do grant password access to family members who want to see the full version of the site.
Check it out!