Latest News
In this last installment of the Road Trip, we follow the Rudeens and Hansons on the return trip.
Previously Posted
I left my road trip series hanging back in February - still more of the story to tell! I also have some updates about my family history and … more...
This week's theme is "Crime and Punishment." Our ancestors were human, so it tends to reason that someone in the family tree found themselves on … more...
Good to know…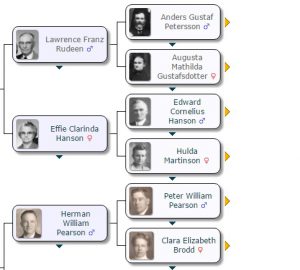 There is a companion site my Family History blog. It's the "Genealogy" site that's listed on the menu. This is a stand-alone website that contains my complete family tree. It includes maps, downloadable source documents, photos and more. You can also download gedcom files, pdf printouts, and family listings. Information about living persons is shielded from public view, but I do grant password access to family members who want to see the full version of the site.
Check it out!