After watching "The Great War" on PBS this week, I realized the significance of some notes in one of Great-Grandmother Lola's ledger books, involving both the Frasier and the Pearson families.

The second episode (Tuesday night) had a lot of information about how ordinary citizens supported the war effort through the purchase of Liberty Bonds. That jogged my memory about some notes I'd seen in the back of one of the Frasier ledger books, so I got it out and took a look. What I found was the minutes of the meetings of the "Pleasant Hill War Savings Society".
"War Savings Societies" were encouraged by President Wilson's administration. Their purpose was to encourage thrift and to raise money for the war effort through the sale of "thrift stamps". These stamps could be purchased for 25 cents each. The thrift savings books held sixteen stamps each. If you filled your book with $4 worth of stamps and held onto it until 1923, you could redeem it for $5.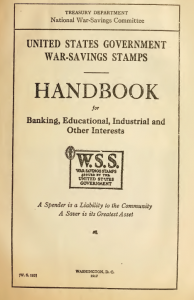 A small brochure was published that provided information about how to go about forming a War Savings Society. There is an online copy available here, and makes for interesting reading. I'm sure someone from Ceresco had a copy of this very booklet.
Lola's ledger has minutes of ten meetings held between June and November of 1918.
The notes are all in Lola's lovely handwriting, and I don't know why they appear in the Frasier farm accounts book. It looks as though she may have transcribed them from the originals. My great-grandfather Roscoe was the actual elected secretary of the society (though he doesn't strike me as having been the note-taking type), and another person entirely was the acting secretary for one of the meetings. So I don't really know why Lola put these notes into her ledger book. Maybe she just thought she was keeping a bit of history, and indeed she was!
The meetings all took place at the District 45 schoolhouse – of course, that's the one that's on the Ashland Road just a couple miles east of Ceresco. It's still standing today, but is a private home.
As you will see, both the Pearson and Frasier families are represented but of course not yet related to one another. I also recognize a few other names of relatives among the members.
Here are the notes of the first meeting:
Minutes of the First Meeting
June 28, 1918
The Preliminary organization meeting of the Pleasant Hill War Savings Society of District 45, Saunders Co., Nebr. was held June 28, 1918 at District 45 school house. The following persons joined as charter members:
P.W. Pearson
A.R. Cameron
R.E. Frasier
C.J. Johnson
Alfred Nelson
Peter Martinson
Mrs. C. B. Boydston
Mrs. A.R. Cameron
Mrs. Ray Evans
Gail Schoultz
Maude Schoultz
May Boydston
Mrs. Frances Cameron
Lydia Schoultz
Edna Samuelson
Evadeen Pearson
Hildur Pearson
Flora Boydston
Anna Samuelson
S.Samuelson
John Edvert
Otto Oberg
Ray Evans
A.W. Boydston
Claude Cameron
Mrs. Claude Cameron
Joseph Schoultz
G.E. Johnston
Ed Saathoff
Jay Schoultz
Oscar Peterson
Charlie Peterson
Axel Peterson
B.B. Boydston
Carl Johnson
Delf. Almquist
Melvin Pearson
Enfred Pearson
Willie Emgarten
Adolph Johnson
Ida Radenslaben
Lola Frasier
Lillian Gracy
John Gracy
Chas. Radenslaben
Otto Johnson
Mr. H.W. Breyer
Mrs. H.W. Breyer
Victor Anderson
Mrs. Victor Anderson
The meeting was called to order by P.W. Pearson who was elected temporary chairman. After discussion it was moved and seconded that a W.S.S. be organized under the name of Pleasant Hill War Savings Society of District 45 Saunders Co., Nebr. to be affiliated with the National War Savings committee. The motion was made and carried that A.R. Cameron act as President and R.E. Frasier act as secretary of the Society.
There upon all persons present desiring to join the society signed applications for membership and Pledge for Thrift Service. The names of whom are a part of these minutes.
It was moved and carried that regular meetings be held at the School House in District 45 every two weeks on Friday evenings at 8 P.M.
A Program Committee was appointed, they being Miss Mary Boydston, Carl Johnson, Gail Schoultz.
There being no further business, on motion made and carried, the meeting adjourned.
R.E. Frasier, Secretary.
I'm guessing that because my great-grandfather P.W. Pearson appears first on the list, and because he acted as the temporary chairman, he may have been one of the instigators for forming the society.
At a later meeting, the following additional members joined:
Lucy Boydston
Nettie Boydston
Esther Johnson
Mrs. Otto Johnson
Mrs. Emil Johnson
For the meetings that followed, it seems that typically each meeting began with the singing of "The Star-Spangled Banner", followed by various solos, readings, and speeches, and then closing with the singing of "America". At the August 9 meeting, George Boydston read letters from his brother who was fighting "somewhere in France". The meetings also included an opportunity to purchase more Thrift Stamps in support of the war. My grandma, Thelma Frasier, is listed as performing a "Salute to the Flag" at the September 20 meeting. She would have been 4 years old.
I've included below a PDF of all of the meeting minutes. My scanner is ever so slightly smaller than the book itself, so some of the pages are cut off a little bit. I'll see about getting an improved scan at some future date.
Minutes of the Pleasant Hill War Savings Society, 1918
I'm sure there will be many 100th-anniversary observances of "The Great War" in the coming months. This is a really cool memento of my ancestors' contributions to the war effort.
I'm intending to donate the ledger book to the Saunders County Historical Society.
** please note, I couldn't quite make out all the names on the list so please comment below if you catch any errors.