I took on a little project the last couple of weeks – something I'd meaning to do for a long time: how are the Gilchrists, Frasiers, Pierces and Rosecrans families all interconnected? I found some surprising answers and many more connections than I expected.
(This is all going to get kind of messy, don't worry if you get confused; I get confused too.)
Let's start at the beginning, with Tunstal Quarles Matthews, my 4x-great-grandfather. This diagram shows how I am descended from him.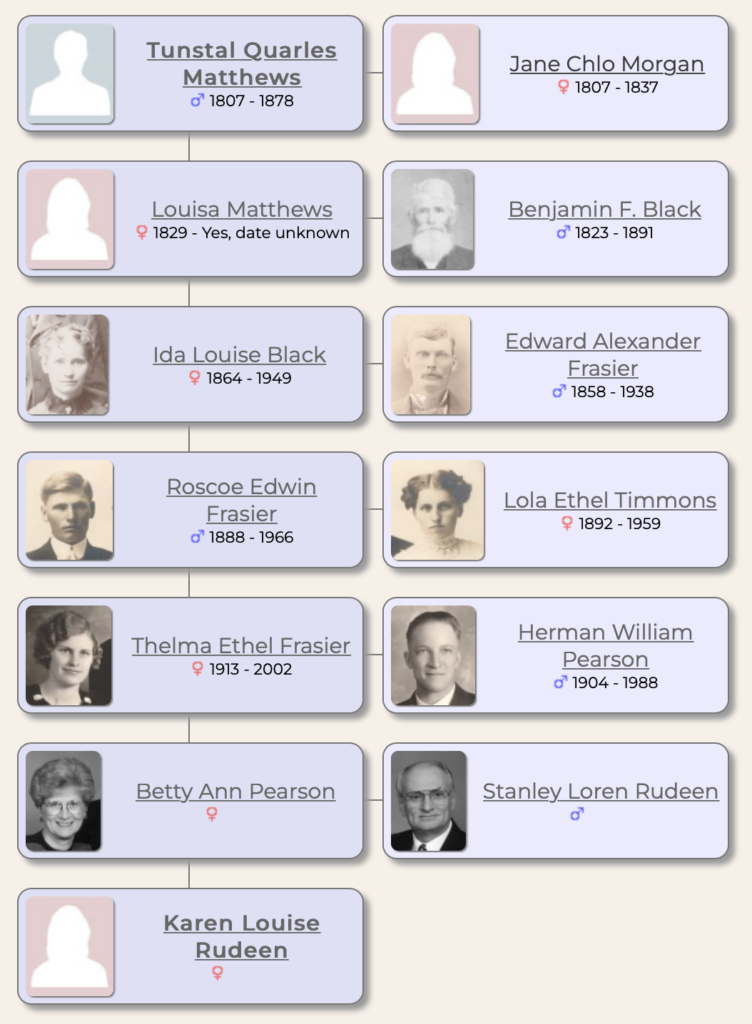 Known as "T.Q.", he was born in Pulaski County, Kentucky in 1807. He moved to Ross County, Ohio as a young boy, and later to Fayette County, Indiana where he married Jane Chlo Morgan. They had four daughters together. Jane died of complications from "scrofula" – a form of tuberculosis, a disease which would haunt this family decades forward. After Jane's death, T.Q. remarried to Harriet Stone with whom he had eight more children.
He was a preacher in the Disciples of Christ denomination and never accepted any pay in that capacity. He did odd jobs on the side such as farmer, shoemaker, postmaster and justice of the peace. He moved from Indiana to South English in Keokuk County, Iowa in about 1853 and was one of the earliest settlers there. He was staunchly opposed to alcohol and slavery and is said to have been active in the underground railroad.
While he was living in Indiana, his oldest daughter Louisa married Benjamin Black and the next oldest daughter Ruth married Elisha Scott. Ruth and Elisha soon followed her father to South English, Iowa in about 1855. Meanwhile, Benjamin and Louisa skipped across Indiana from farm to farm, each of their eight children seemingly born different counties. Finally, after the Civil War, Benjamin and Louisa came to South English to join Louisa's father T.Q. and Louisa's sister Ruth Scott. By then, Louisa was sick with tuberculosis and died soon after arriving in Iowa, as did her newborn twins. Benjamin was left a widower with eight children to support.
At the same time that the extended Matthews family was establishing near South English, Iowa, a Russell family from Sundusky County, Ohio settled into Washington County, Iowa – the next county to the east of Keokuk County. James and Atha Russell had six children: Isabel, Merritt, Ellen, Tolbert, Thomas and Sarah (there may be another son James; I'm not sure). Daughter Ellen married a gentleman by the name of Michael Ickes in 1860 and they eventually had two children together, Ellen and Rolla.
Bear with me as we pick up the thread of yet another family in the vicinity. In 1870, the Peter Gilchrist family arrived in South English from Scotland. Peter was a widower with seven children and came to be near his father, James Gilchrist, who had arrived in South English nearly ten years earlier.
A series of events in the 1870's brings these families together in surprising ways.
In February of 1875, Ellen (Russell) Ickes died, leaving behind her husband Michael Ickes and the two children. In July of 1875, Ellen Ickes' oldest sister Isabel got married. By then, Isabel was 37 years old and probably considered a confirmed spinster. Yet she married Edwin Rosecrans, a twice-widowed farmer with a two-year-old son Willie.
In 1878, two of the Matthews cousins married two of the Gilchrist siblings. This one is complicated, so here's a diagram.
As shown above, Louisa's daughter Elinor (known as Ellen), and Ruth's son Avesta married two of the Gilchrist siblings. John Gilchrist and Ellen Black were the first to marry in May of that year, while Avesta Scott and Mary Jane Gilchrist were married in December.
In 1879, the connections to the Russell family begin. Benjamin Black's 26-year-old daughter Ruth Black married Michael Ickes, widowed husband of Ellen Russell. About this same time, Isabel (Russell) Rosecrans and her husband Edwin take Benjamin Black's youngest child, Ida, into their family. I have searched high and low for formal adoption papers and have not found any, so I do not know how formal this arrangement was.
Edwin and Isabel "Belle" Rosecrans bought a 160-acre property in Green Township, Saunders County in November, 1878 and recorded the deed in April, 1879. In June, 1879, they deeded the north half of that property to Wesley A. Rosecrans. I'm not sure who Wesley was – he could be a cousin, an unknown son, or a brother of Edwin. Then in 1880, Wesley sold the 80 acre-farm to Belle's brother, Tolbert Russell. Edwin and Belle retained the south 80 acres.
Other family members also migrated from North English and South English to Ashland. Ida's brother Perry Black is shown in the 1880 census as a hired hand on the farm of George and Elvira Putney in Green Precinct. (In a mind-blowing coincidence, Elvira will hold the mortgage on Clara Pearson's farm some forty years later.) That same 1880 census shows Ida's sister Ellen and her husband John Gilchrist in Green Precinct and right next door is the family of Ida's other sister Ruth and her husband Michael Ickes (widowed husband of Ellen Russell) and Michael's two children.
In all, we have four Black siblings, three Russell siblings/inlaws, and one Gilchrist sibling in Green Precinct, Saunders County in 1880. They all arrive within a couple years of each other. As a side note, I see a lot of other Russell families in Saunders County, some even in the 1870 census. Some of them have parents born in Ohio, making me wonder if they are relatives to Belle, Tolbert and Ellen. Maybe it's the Russell family connections that brought our Frasier and Black ancestors to Saunders County!
To make things even more confusing, let's fast forward 29 years to 1909. In the intervening years, Ida Black marries the hired hand on her adopted parents' farm – Edward Frasier. They later buy that farm themselves. Both John and Ellen (Black) Gilchrist die of tuberculosis within a couple years of each other, and Edward and Ida provide support to the orphaned children. One of the orphans, Bertha Gilchrist, lives with Edward and Ida for a period of time. She meets and marries Edward's nephew, Winfield "Winnie" Pierce in 1909. This sets up the spectacular double-second-cousin relationship which is pretty wild. Here are two diagrams showing the two ways that Bertha's daughter and my grandma are related:
First, Fern and Thelma are second cousins on the Frasier side as follows:
Next, Fern and Thelma are also second cousins on the Black side:
If you stayed with me this far and you're totally confused, don't worry. I get confused too. In fact, I had to draw a big diagram to keep it all straight:
A key part of genealogy research is keeping up with your ancestor's "FAN" network, where "FAN" means "Friends, Associates and Neighbors." This particular network has a lot to do with death and hardship. The deaths of Ellen (Russell) Ickes, John Gilchrist, and Ellen (Black) Gilchrist all contribute to the formation of new family units, as does the apparent abandonment of Ida Black by her father Benjamin.
Here's a photo album of many of the people and families mentioned in this post.