Last time I was on this topic, I posted the contents of Christian's will.
In it, he left everything to his wife Johanna. However, upon Johanna's death his oldest son "Per" William (aka Peter William, my great-grandfather) would get the original homestead farm, for which he was to reimburse $1,500 to his other siblings. The other siblings would also get the remainder of the estate. He named a friend, J. J. Johnson, as executor of his estate.
Christian died on October 16, 1908, about two years after his will had been drawn up.
On November 9, 1908, not quite a month after his death, the court convened a session to prove the probate of the will. Mr. J.W. Gorder, one of the original witnesses to the will, swore under oath that he was indeed a witness to the will and that Christian was of sound mind at the time. County Judge E. E. Placeh conducted the proceedings.
About 8 months later, Christian's wife Johanna filed an affidavit with the court acknowledging that the executor, Mr. J. J. Johnson, had properly executed the will:
I Johanna Pearson widow of Christian Pearson, deceased, hereby and herein acknowledge the receipt of $4259.45 from J. J. Johnson of Wahoo, Nebraska, executor of the last will and testament of Christian Pearson, deceased, lest court costs, expenses, executors fees and attorneys fees, all of which items have been paid by said executor.

I also acknowledge receipt of possions of the real estate said deceased died seized of. Said payment of said sum of money being to full of all demands I have against said executor.

Stated at Wahoo this 15th day of July, 1909.
There's her cute little Swedish-y signature.
Mr. Johnson's petition for a decree of final settlement is included as well. Here is a key excerpt:
Your petitioner further represents that said Christian Pearson, deceased, died seized, in fee simple, of the following described real estate, to wit: the S 1/2 of NE 1/4 of Section 27; the SW 1/4 of Section 26 all in Township 14 North Range 6 in Saunders County, Nebraska, and the following described town lots in the Village of Weston, to wit: Lots 6, 7, 8, 9, and 10 in Block 16 Third Addition to in the Village of Weston, in Saunders County, State of Nebraska.

That the heirs at law, next of kin and […] of said decased, with their respective ages and place of residence are as follows: Johanna Pearson, widow of said deceased, age 56 years, residence Saunder County, Nebraska;

Per William Pearson, son, age 38 years residence Saunders County, Nebraska
Carl Oscar Pearson, " , " 30 " , "
Paulina Mathilda Pearson, daughter, age 28 years, residence Saunders County Nebraska
Fritz Fritioph Pearson, son, age 24 years, residence Saunders County Nebraska
Ernest Albin Pearson, son, age 22 years, residence Saunders County Nebraska
Agda Alida Pearson, daughter, age 18 years, "
After studying this, I realized that my previous post about Chrisitan's land ownership wasn't quite correct; he owned an additional 80 acres as part of the Chapman Farm, with the additional 80 being in Section 27 to the west. That brings the total on the Chapman Farm to 400 acres, exactly as he stated in his 1905 letter to Christian. (I have fixed the map to correctly display all the parcels.)
Note that the homestead portion of the estate, which the will specified to go to P. W. (after Johanna's death) is not included in J.J. Johnson's petition describing Christian's assets. I presume that Christian must have sold that parcel to P.W. outright between the time of the will and his death. Not sure if it was under the terms of the big agreement that P.W. had drawn up, or a separate deal entirely.
The 1907 atlas, which would have reflected ownership during this interim period, also shows the homestead farm under P.W.'s ownership. However, it also shows another 80 acres directly north of the homestead farm which is also not included in the probate. I wonder if Christian conveyed that property to Fritz and/or Ernest?
Curiously, the Stocking Farm is shown under Johanna's ownership in 1907. Family legend is that this farm went to Carl Oscar (and indeed, it is still held by his descendants).
I will need to make another visit to the courthouse before I can resolve how everything got sorted out.
Finally, the decree showed that Christian owed 5 lots in Weston. Amazingly, the 1907 atlas shows exactly where these are – highlighted in red below.
Looking at Google street views for this property, the east end of the block is a Wonka Oil and Feed building, and the west end contains a small house which I presume is where Johanna lived after Christian died.  We have a photo of Aunt Lena standing in front of the house; hard to know for sure if it's the one.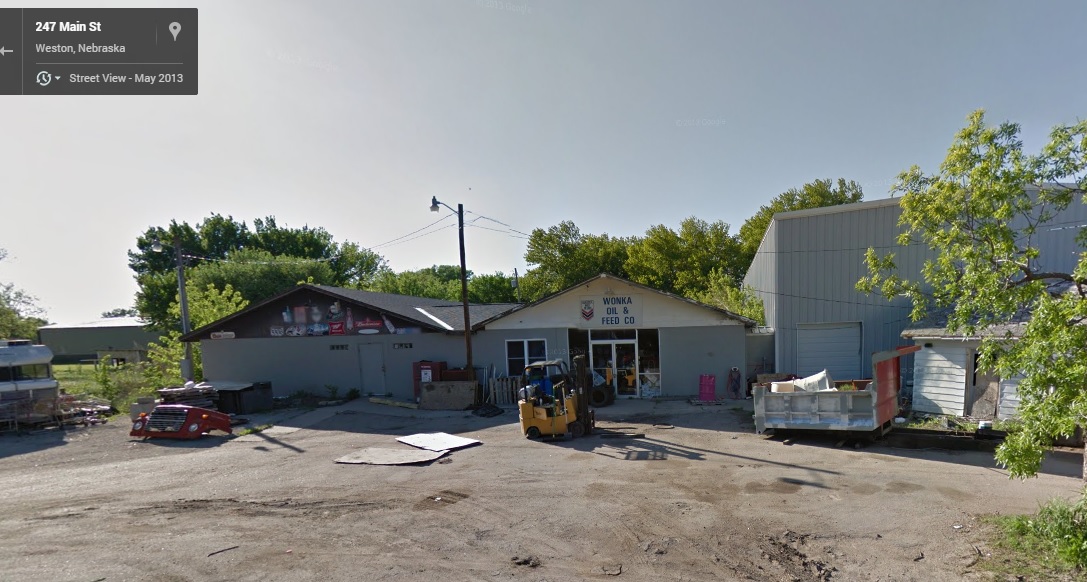 I can't really declare this as "case closed", so someday there will be a Part 4 that clears up how all the land parcels changed hands.