This post has been updated: see below
As we've been reading, Annie Burkey was born in Columbus, Nebraska, and then moved with her family to a sod house on a homestead near Julesburg, Colorado.  The date of Joseph Burkey's homestead application was 1887 and the process became final in 1892. The family legend is that they all returned to Crete as soon as they could so the children could get a Catholic education.  The Burkey family shows up in Crete in the 1900 census, so they must have returned sometime between 1892 and 1900. I presume that they sold their homestead farm, so someday I'll see if I can find a deed to nail down the date.
The 1900 census records for this family are interesting. The family appears to be living in town, not on a farm. Joseph's occupation is listed as "bar tender." (I imagine this was at odds with his Mennonite upbringing; what this man has done for love!) Oldest son Louis is a clerk in the General Store, Annie, age 15, is doing "general housework" and the rest of the kids are either at home or at school.
Meanwhile, Joe Rademacher is living out on the farm with his parents and younger siblings. Joe had grown up with Arnold Peter, his lifelong best friend (we'll be talking about the Peter family quite a bit in the coming weeks). Sometime between 1900 and 1906, the Peter family decided to hang it up in Crete and go seek their fortunes as homesteaders in South Dakota. They found land in Lyman County, about 100 miles northeast of Rapid City:
[flexiblemap center="44.970913,-102.171272″ title="Peter Homesteads, Stony Butte Township" zoom="7″ width="500″ height="400″ ]
Those who were age 21 and over filed their own separate claims. A 1911 land atlas lists the following members of the Peter family, each with their own separate parcels of land:
The father, Walter Peter (mother had died) – Section 8
Oldest daughter Louisa (Peter) Wilds – Section 9
son Walter Peter – Section 8
son Werner Peter  – Section 7
son Ralph Peter – Section 9
Lena Peter – Section 5 (I haven't confirmed how or if she was related)
Of course, missing from this list is Arnold himself. There was another parcel of land in Section 8 listed as "Pleasant Divide Stock Farm" which was owed by "Peter Bros.". I suspect that this could have been his property and that by 1911 he had given up on South Dakota and returned to Crete – probably because of a certain young lady he had left behind.
At some point while Arnold was in South Dakota, his best friend Joe Rademacher came to visit. We have a photo from this visit; Joe is on horseback, second from left:
As I mentioned, Arnold gave up on his South Dakota homestead and returned to Crete, The family story is that back in their farming days, the two best friends had admired two Burkey sisters who they regularly saw walking to school. Joe ended up marrying Annie and Arnold ended up marrying Tillie (Matilda).
Here are several wedding photos:
I believe that by the time Arnold and Tillie got married, Joe and Annie had already moved to Colorado. Here is Arnold and Tillie's wedding photo. You can tell it's the same studio where Joe and Annie had posed for their portrait.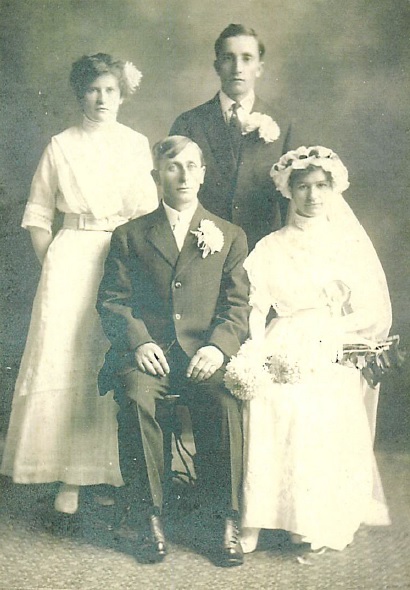 I got an email from Rich Peter, one of Arnold's and Tillie's sons, with some additional information:
the unidentified man in Arnold's and Tillie's wedding photo is likely Oscar Winkler (son of Ottilia's brother Paul, so he would be Tillie's first cousin)
Most of the Burkey clan (Joseph's siblings) ended up in the area around Seward, Nebraska
Rich confirmed that Joseph Burkey really did work in a bar in Crete. According to Rich,
Grandma Burkey [Ottilia] told us that Grandpa Burkey took a job in the saloon out of desperation to provide for the family. She did not say he was a bartender but was given the lowest of jobs – emptying out the spittoons and returning them all polished and shiny. The saloon had sawdust on the floor to absorb results of excessive drinkers and Grandpa had to clean it up each night so that they were ready for business the next day. He hated the job (with good reason) and suffered verbal abuse from the patrons because he always dressed as a Mennonite when he worked. How awful it must have been!

I have often wondered if he felt resentment towards his brothers who had received their inheritance from Great Grandpa Burkey and lived as prosperous farmers in the Mennonite community. We are not sure if Joseph was shunned by the Mennonite community and if so for how long. Virginia and I talked to some of the current Mennonite elders in Seward and they said it was very likely that Joseph was shunned at least for a while.
I'm really starting to think of Joseph Burkey as a true hero in Dale's family tree! He married his wife for love, giving up his church and apparently his family in the process. Yet he was the son who had cared for his parents in their old age and took care of the farm and the house for them. As a converted Catholic, he continued to present himself in Mennonite dress at great personal cost.  He was unafraid of hard work, taking on homesteading and bartending and whatever had to be done to provide for his family.