Peter Dill is my 4x-great-grandfather. He was the father of Harriet Dill, who married Zeno Bass. According to family lore (from Lola Timmons; his great-granddaughter, my great-grandmother), he was born in 1807 in Ohio. His father and grandfather were also named Peter Dill. According to Lola, the first Peter Dill "was born in Germany and was one of three brothers who came to America about 1740 and settled in Georgia. Later, he went to Pennsylvania and was married there. He raised a son [also named] Peter Dill who also lived in Georgia and later moved to Preble County, Ohio."
Can we confirm any of this?
Let's take each of these claims separately. We'll be looking at potentially three different Peter Dills. In this post I will refer to them as 1, 2 and 3, even though they of course did not use those titles in real life. Peter Dill 1 is the one who came from Germany; Peter Dill 2 is the one who moved to Preble County, Ohio; and Peter Dill 3 is the father of Harriet Dill.
Three brothers from Germany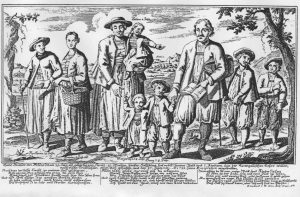 There was a significant pattern of emigration of German-speaking people to Georgia in the eighteenth century. They are called the "Georgia Dutch" but there were actually at least four distinct group groups: Salzburgers, Palatinates, Swabians and Swiss. Most of them were seeking religious freedom, but economic opportunity also played a role. There are surprisingly good records related to these emigrants. Many of them had their passage paid by British colonists who brought them over as indentured servants.
There is a carefully researched book, "The Germans of Colonial Georgia, 1733-1783" that lists a Diehle family that came from the Palatinate region of Germany1. Hans Adam Diehle came with his wife Anna, two daughters and three sons. One of the sons was Peter Diehle, born in 1717. The family arrived in America on December 20, 1737 on a ship named "Three Sisters".
The families that came on board the Three Sisters had a harrowing time. They were badly treated by the English merchants who had arranged their travels and by the ship's Captain as well. Over time, many of the Georgia Dutch became frustrated with their mistreatment and moved north to Pennsylvania where they knew that other German-speaking emigrants were faring better2.
I would love to know how Lola knew this story of the three brothers. The above book wasn't published until 1986 and I don't know what research material would have been available to Lola and her relatives back in the 1950's. So perhaps this was a story that had been passed down through the family for generations. Her story certainly checks out against historical facts.
There are families in the South who claim descendency from the Diehle family, and many of them continue to use the "Diehle" spelling of the name. There are also reports of a "Dowle" spelling of the name. But I have not seen "Dill" listed among the Georgia Dutch.
But still, it's not too hard to imagine one of the Diehle descendants making his way to Pennsylvania in the mid-1700's. Was Peter Diehle our Peter Dill 1?
The Dill Family in Pennsylvania
I haven't made as much headway in finding the Dill Family in Pennsylvania. Our Peter Dill 3 was said to be born in Germantown, Ohio (more about that in a minute). It's notable, however, that the founders of Germantown were originally from Berks County, Pennsylvania3. There are some "Dill" names in the 1790 census in Berks County. So it's not hard to imagine Peter Dill 1 moving from Georgia to Berks County, Pennsylvania and then his son Peter Dill 2 moving from Berks County, Pennsylvania to Germantown in Montgomery County, Ohio where his son Peter Dill 3 is known to have been born.
Update 7/15/2017: No, a stop in Pennsylvania is unlikely. The Miami (Ohio) Monthly Meeting Minutes show that Phebe went directly from Wrightsboro to Miami.
The Dill Family in Ohio
My first confirmation of the Dill family in Ohio is found in published history of Montgomery County, Ohio (where Germantown is located). This book states that Peter Dill owns land in Section 30 in German Township and that it was acquired on January 2, 18074. This is further corroborated by land records of the Bureau of Land management:
I am confident that this our Peter Dill 2, and I'm fairly sure about the trajectory of the Dill family from this point forward.
Several family trees online at Ancestry.com and elsewhere show that this Peter Dill 2 was married twice. His first wife was Phebe Brown, and his second wife was Sarah Wimmer. According to these same family trees, this Peter Dill was born in about 1785. Here's the one element of Lola's story that doesn't quite line up. The first Peter Dill 1 would have been 68 years old when this Peter Dill 2 was born. So I think we're missing a generation in here somewhere.
(In fact, quite honestly, the whole Peter Dill 1 to Peter Dill 2 lineage in questionable no matter whose tree you look at. These colonial era families had lots of children and names were repeated over and over again. Just like with the Timmons and the Black families, it's easy to get lost among the overlapping generations. Further, Peter Dill 2's marriage to Phebe Brown may have been in Virginia, not Pennsylvania. So much more work is needed on this!)
After Peter Dill 2 died, there appears to have been some family drama upon the settlement of the estate. My guess is that the children from the first wife may have objected to the inheritance passed on to the second wife and her children (just a guess). The will was probated in Preble County, the next county to the west of Montgomery County. So this corroborates Lola's claim that Peter Dill 2 was in Preble County.
Lola had names and dates for the children from both marriages, although she did not have names for the wives. The names she listed match nearly perfectly to the names listed in the court pleading5 as well as to a newspaper notice out of Sangamon County, Illinois, where Peter 2 had apparently bought land in partnership with the Wimmer family. (His second wife, Sarah Wimmer, is buried in Sangamon County, Illinois.) The name circled in red is most certainly our Peter Dill 3 (Harriett's father), one of the sons of Peter Dill 2:
As to "our" Peter Dill 3, I was lucky enough to come across a microfilm copy of a newspaper article6 on one of my trips to the LDS Family History Library in Salt Lake City many years ago. It begins as follows:
On a farm near Germantown, Ohio, Peter Dill was born. He was married to Emily Patton, who was born at Middletown, Ohio on April 21, 1809. Peter was born on October 2, 1807. To this union were born eleven children:

1. Lucy A., Feb 12, 1830 in Germantown, Ohio
2. Eurasmus, Dec. 7, 1831 in Germantwon, Ohio
3. Richard M., Aug. 7, 1833 in Germantown, Ohio
4. Jas M., Aug 14, 1835 in Germantown, Ohio
5. Sarah, Sep 14, 1838 in Cass Co., Indiana
6. Francis M., May 30, 1841 in Morgantown, Indiana
7. Mary (said to be a twin of Francis M)
8. Emeline, Sep 2, 1843 in Morgantown, Indiana
9. [Karen's note: there is no #9 in the list, it should be Harriet; clearly a typo]
10. John M., Mar 23, 1849 in Morgantown, Indiana
11. Peter M., Dec 9, 1852 in Morgantown, Indiana
By the way, in the BLM records listed above, there was an "Isaac S. Patton" who acquired land in the same section. Several online family trees show that Isaac was Emily's father. This is a whole branch of the family that I have yet to explore.
I hope to be able to fill in some of the missing gaps in the whole Georgia to Pennsylvania to Ohio narrative (the Peter Dill 1 to Peter Dill 2 timeline). I feel like the Peter Dill 2 to Peter Dill 3 facts line up pretty well. Here's my "to do" list:
Learn more about the Georgia Dutch and any additional records related to the Dill/Diehle family (Peter Dill 1)
Look for the Diehle/Dill family in Pennsylvania, in Berks County and elsewhere. Is there a missing generation in the timeline? Do we need to look in Virginia as well? (Is there a Peter Dill 1.5?)
Confirm Peter Dill's (Peter Dill 2) marriage to Phebe Brown and Sarah Wimmer. Collect any available census and probate records.
Find land deeds for all three Peter Dills and map their land ownership
Confirm Peter Dill 3's marriage to Emily Patton. Collect any available census records.
Explore the Isaac Patton ancestry in New Jersey
I'll be writing more about the Dill family, including more information from the microfilm newspaper article, in the coming weeks.
1Jones, George Fenwick. The Germans of Colonial Georgia 1733-1783. Baltimore, Maryland: Clearfield Company, Inc. by Genealogical Publishing, 1999.
2Jones, George Fenwick. The Georgia Dutch: From the Rhine and Danube to the Savannah, 1733-1783. University of Georgia Press, 1992.
3"Germantown, Ohio." Wikipedia, April 23, 2017. https://en.wikipedia.org/w/index.php?title=Germantown,_Ohio&oldid=776872467.
4Drury, A. W. (Augustus Waldo), and S.J. Clarke Publishing Company. History of the City of Dayton and Montgomery County, Ohio. Chicago, S. J. Clarke Pub. Co., 1909, p. 872 http://archive.org/details/historycitydayt00compgoog.
5"Ancestry.com – Preble County, Ohio Common Pleas Court Records 1810-1850." Accessed June 11, 2017. https://www.ancestry.com/interactive/49302/FLHG_PrebleCntyComRec-0102/85438?backurl=https://www.ancestry.com/family-tree/person/tree/17585942/person/529854434/facts/citation/4528519750/edit/record.
6Little, Judge Noble K. The Peter Dill Family. May 3, 1972, Martinsville Gazette.