Daniel Dill was the older brother of my 4x-great-grandfather Peter Dill (1807-1888). Until last week, he was just another name on my family tree. Digging deeper, I found a story that's just begging to be told. And Peter plays a part.
Elements of the story will take place in a fancy hot springs resort; the Naval Shipyards in Pensacola; an elegant mansion; a music store; a jail; the Consulate for the Grand Duchy of Hesse Darmstadt; and the Alabama Supreme Court. As if that isn't juicy enough, the cast of characters will include an Italian confectionary chef; a wealthy French Creole doctor; a drugstore owner and his German clerk, three slaves (John, Sam and Nancy), a military contractor and much of the extended Dill family. Fortunes will be won and lost, fates will be decided, crimes are committed, and in the middle of it all the Civil War will turn everything on its head. I almost wonder if I shouldn't write a novel!
Most of the information comes out of Daniel's 368-page (!) probate file, but additional corroborating evidence and clues come from census records, business directories, ship manifests and marriage records.
The first indication about something out of the ordinary with Daniel can be found in his own father's probate records. Peter Dill (this would be Peter Dill 2 from the previous post) was the father of Daniel, Peter 3, and several other children. Peter Dill 2 had two wives: Phebe Brown and Sarah Wimmer. Here is an abstract of the probate case1:
We see a hint of trouble right away in the first line of the paragraph – the administrator of the case is being sued by Sarah Dill, the second wife of Peter 2. Among the heirs are Peter Dill 3 of Ohio and Daniel Dill of Alabama. For the other children listed, some are from Peter Sr.'s first wife, Phebe, and some are from his second wife, Sarah. But both Daniel and Peter 3 are from the first wife Phebe.
So what's up with Daniel living in Mobile Alabama of all places? That's the question that triggered my search.
Let's go back and review the early years of Daniel's life. Daniel was the second son of Peter Dill 2 and his first wife Phebe Brown. We haven't talked about Phebe before; I wasn't entirely sure about her heritage but it only took a small amount of digging to confirm what other researchers have concluded: she was born into a Quaker family whose roots go all the way back to the formative years of the Quaker religion. I will write more about our Quaker roots some other time, but at this point it's important to know that the Quakers kept very detailed records of their members.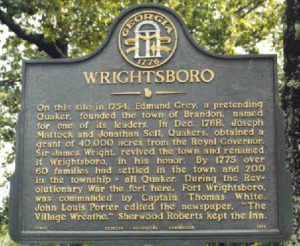 Phebe's parents were Mercer Brown and Sarah Piggott. Their marriage got off to an unusual start – in 1764, Mercer defied his elders and eloped with a young woman, Sarah2. Some records suggest that she had already given birth to a daughter. After a few years, they eventually returned to the fold and re-embraced the Quaker life. Twenty years after their marriage, when their youngest daughter Phebe was six years old, they decided to move south. This was typical for many Quaker families and is a theme I see all throughout my family tree. As the frontier develops, land prices rise and young families move to where they can buy more land for less money. Such is the case with Mercer and his family. They go south along the Great Pennsylvania Wagon Road and end up at a Quaker settlement in South Carolina called "Bush River". Upon their arrival there, they learn that many Quakers are moving even farther to south, to a Quaker settlement called "Wrightsboro" just outside of Augusta, Georgia. Mercer and his family join in this group.
The Quaker settlement at Wrightsboro was the only one in Georgia, and the farthest south of all the Quaker settlements during this period. I am anxious to visit Wrightsboro someday, although there isn't much left beyond some historical markers and a single stone house. It's only about 12 miles away from the Augusta National Golf Club, home of the annual Masters Tournament every spring.
The Quakers did very well in Wrightsboro. Mercer's will shows that he owned a plantation, a grist mill and a saw mill3. On his plantation, he and his Quaker neighbors probably grew cotton and tobacco. Soon that became a problem, however. The Quakers were morally opposed to slavery, and there's no way they could compete with their slave-owning neighbors. The slave economy was growing rapidly in Georgia at this time. After about 1800, the Quaker families slowly migrated away, most of them setting out for the new frontier of Ohio. Mercer died in 1802, and it wasn't too long after that his wife and children and grandchildren packed up for Ohio as well.
By then, Phebe had married Peter Dill and they had four children. The Wrightsboro Quaker records specifically mention Daniel as one of the children born there4. He was probably about five years old when they moved to Ohio. Daniel's younger brother Peter wasn't born until after the family moved. They settled in Germantown in Montgomery County, Ohio. This might be a hint about the Dill family's German origins. As we shall see in future posts, the Dills always seem to gravitate to German-speaking friends and neighbors.
In Ohio, Phebe joined the Miami Monthly Meeting, located in Warren County5. It was about 20 miles east of Germantown. Some of the children retained their Quaker heritage, including oldest son Richard and youngest son Mercer. But I've seen no evidence of Daniel or Peter maintaining any ongoing association with the Quakers. The family later moves to the neighboring county of Preble. Phebe died there – not sure of the date, exactly, but her husband Peter Dill 2 remarries in 1817 to Sarah Wimmer6. Sarah was from a German family and had roots in Virginia.
At the time of their father's second marriage, Daniel would have been 17 and Peter 2 was 10. I suspect that Daniel may not have been happy with the new arrangements. He ended up back in Georgia at some point. Perhaps he still had Dill relatives down there? Despite the Quaker community moving north to Ohio, the Dills were not themselves Quakers and perhaps the extended Dill family was established and satisfied with what Georgia had to offer.
Tax records show a Daniel Dill owning land in Augusta, Georgia in 18077. This can't be our Daniel; our Daniel would have been seven years old and living in Ohio. So who was this Daniel?
On ancestry.com, there is a cryptic reference to a marriage in 1832 between Daniel Dill and Mary Ann Dill8. (I can't seem to locate the source for this record but will continue to pursue it.) Because they have the same surname, this suggests a marriage between cousins. Is this our Daniel, marrying at the age of 32? Is he somehow connected to the other Daniel?
Next time, we'll take a closer look at the records related to the Daniel Dill living in Augusta in the 1830's.
References: