A couple of newsy items related to my Scottish roots…
I follow several Scottish genealogy blogs and there was news a few weeks ago about new records available through a private researcher. An index of these records showed that there was a paternity suit brought by a woman from Leslie, Aberdeenshire against a man named Andrew Fraser…oh my!
The illegitimate child was born in 1857. My great-great-great-grandfather Andrew Fraser fathered a child (Edward Alexander), born in Wisconsin in 1858. I've never been able to confirm when Andrew came to America; did he father a child in Scotland before coming to America?
I couldn't resist, so I ordered the complete record. Here are the facts:
The claimant was a woman named Ann Thom living on a farm called Southbog in Leslie parish
The child, a son, was born in October 1857 and was named John Thom. He shows up in later census records as John Thom Fraser or John Frasesr. (This is really intriguing because according to traditional Scottish naming patterns, Andrew's first-born son would be named John Fraser.)
The father, Andrew Fraser, was a farm hand living near Oldmeldrum.  Oldmeldrum is about 15 miles straight east of Leslie. 
The summons for the paternity action was delivered to Andrew Fraser in person on December 2, 1857.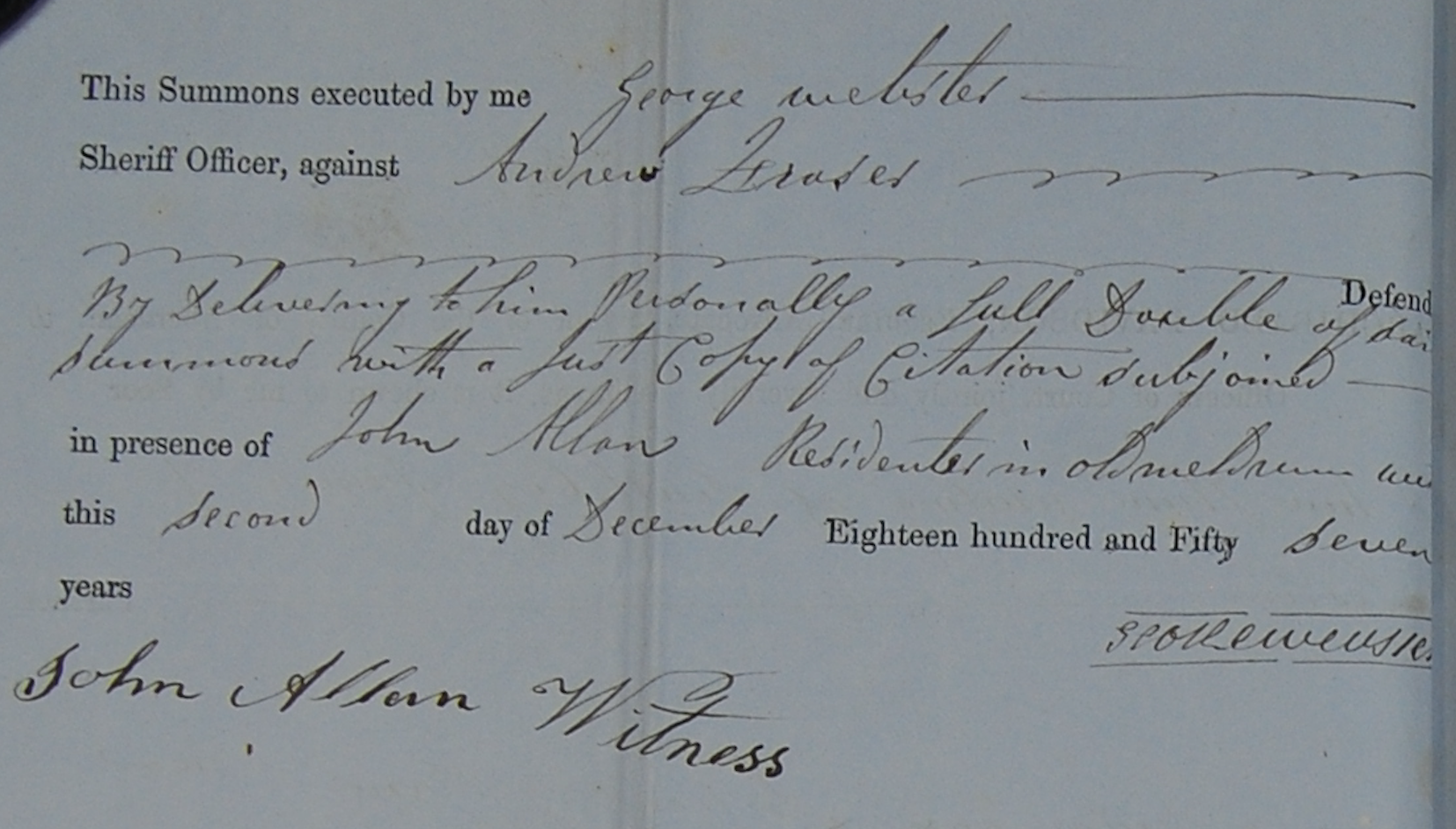 The last item causes me to rule him out as "our" Andrew Fraser, who would have had to have been in Wisconsin, not Scotland, in December 1857. On January 21, 1858, his son Edward Alexander Frasier was born in Marquette County, Wisconsin*. 
Still, the coincidences here are a little spooky. In addition, I have DNA matches on Ancestry to the Thom family. It looks like the Thom family has roots in the Insch area (the nearest town to Leslie). Andrew Fraser's mother Harriet Reid has Insch roots also, so we could be related to the Thom family through her. Always more clues to follow!
In other Scottish news, I got an email out of the blue related to my Tainsh ancestry in Crieff. A recent episode of "Outlander" (season 4, episode 2) featured a close-up of a grandfather clock that was inscribed with the name "Tainsh" and the town name "Crieff". A viewer apparently googled the two words and came across my blog. He has Crieff roots himself. He emailed me a screenshot of the clock that was shown in the episode. He confirmed that there really was a clockmaker in Crieff by that name, so the clock used in the filming of the show is probably authentic, and probably crafted by someone related to me.
Here's a close-up:
I need to make renewed efforts at fleshing out the Tainsh family tree in Crieff and see if I can figure out how I'm related to "D. Tainsh". Because he was a skilled craftsman, there's a chance that there may be guild records for him out there somewhere.
*And just in case you're wondering, I am totally confident about Edward's paternity! I have matches on Ancestry to descendants of Alexander Fraser (Andrew's brother) through Alexander's daughter Annie Susan.