I've been doing lots of genealogy lately, but either it's not interesting to write about (organizing stuff) or it's still a work in progress.. But I did come across a few interesting finds on the Rudeen side of the family this week.
Photos of Uncle Carl and his daughters
The first Rudeen who came to America was "Uncle Carl" – that is, an uncle to my great-grandfather Gust Rudeen. He was a prominent founding member of the Bethlehem Covenant Church in Waverly, Nebraska. ArkivDigital has filmed all of their historical church books, including a commemorative booklet of the church's 75th anniversary in 1957 (subscriptions required).1 In that book, we find a picture of Uncle Carl: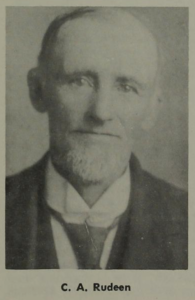 I don't know what I expected Uncle Carl to look like, but he seems like a nice man! The book also had pictures of his two pretty daughters, Augusta and Amanda.
These girls would have been Gust's first cousins. Here's a quick reminder of how Gust is related to Amanda.
Snooping around on Ancestry, I see some DNA matches between my Dad and some of the descendants of Uncle Carl, so I'll look forward to digging deeper and building out the branches down from Uncle Carl.
The hunt for signatures
I'm going to start looking for my ancestors' signatures. My software can display it in a nifty way – see the profile page for Augusta Matilda (Gustafsdotter) Rudeen for an example. I found her signature in Gust's probate file.2
What an adorable Swedish-y signature! The little thingy above the "u" in her first name is a mark that Swedes used in the old style handwriting to help distinguish the lower-case "u" from the letters "m" and "n" which could often look similar. (Geoffrey Fröberg Morris gives a good explanation of this at about 4:50 in this YouTube video.) Not sure why Augusta only put her thingy on the first "u" in her name and not all the other u's but oh well. And she must not have signed her name very often, she also omitted the second "e" in Rudeen.
So now I'm on the hunt for other ancestors' signatures. I'm trying to find one for Augusta's husband Gust with no luck so far but I came across some other fun records for him along the way.
Gust Rudeen Naturalization Records
I figured Gust had to have become a citizen at some point, but because he wasn't a homesteader, I didn't really know where to look. So I snooped around the FANTASTIC Saunders County images at Family Search and came across his naturalization papers.
The records have been indexed, his index card is available here.3
The clerk's copy of his final certificate is available here, and reproduced below.4
Unfortunately, that is not his actual signature, it appears to be the clerk's entry. Note that it says he took his oath in Lancaster County. I can't find Lancaster County's naturalization records online, but maybe a trip to the courthouse would prove useful. Perhaps there is a petition on file there with his actual signature on it!
Notice that one of his witnesses was C. G. Dahlstrom who I believe was in business with E. C. Hanson, and whose daughter Clarinda would ultimately marry Gust's son Lawrence. And of course Lawrence and Clarinda are my paternal grandparents.
I've tried to look elsewhere for his signature but without much luck. He was never, to my knowledge, a landowner. I haven't been able to find him as a witness to the business dealings of other friends, relatives and neighbors but my search has been by no means exhaustive.
Marriage Record for Gust and Augusta
Although I got a photocopy of a marriage certificate from cousin Warren Rudeen many years ago, now Ancestry has copies of the court clerk's marriage records5. Again, I don't believe Gust's signature is on this document, it is just the court's record of the license application, the license issuance, and then the certificate issued after the marriage took place (all together on one page). It's interesting that he was still going by "Peterson" at this point in time.
Gust and Augusta left Sweden on October 6, 1882 and the application for the marriage license was made on November 8. So they didn't waste any time at all! It must have been one of the first things they did upon arrival in Nebraska.
Sources:
1ArkivDigital, Waverly Bethlehem Covenant Church, Nebraska, USA (NE) Vol:20 (1882-1957) Image 4 / Page 5 (AID: v877010.b4.s5)
2FamilySearch, "Saunders, Nebraska, United States Records," images, FamilySearch (https://www.familysearch.org/ark:/61903/3:1:3QHJ-9Q4W-L32L : April 18, 2022), image 1 of 83; county court. Augusta's signature is on image 34 of 83 where she certifies the inventory of the estate.
3"Saunders, Nebraska, United States Records," images, FamilySearch (https://www.familysearch.org/ark:/61903/3:1:3QHK-93PX-4Q4N : April 18, 2022), image 1413 of 2668; Nebraska. District Court (Saunders County).
4"Saunders, Nebraska, United States Records," images, FamilySearch (https://www.familysearch.org/ark:/61903/3:1:3QHV-13PZ-5XLF : April 18, 2022), image 119 of 607; Nebraska. District Court (Saunders County).
5Ancestry.com. Nebraska, U.S., Select County Marriage Records, 1855-1908[database on-line]. Lehi, UT, USA: Ancestry.com Operations, Inc., 2017. Original data:Nebraska, Marriage Records, 1855-1908. State Library and Archives, Nebraska State Historical Society, Lincoln, Nebraska. Records for Lancaster County, 1880-1886, image 563 of 1697.