I was going through some stuff that my Aunt Jane gave me and I came across this interesting postcard.
Here's the front: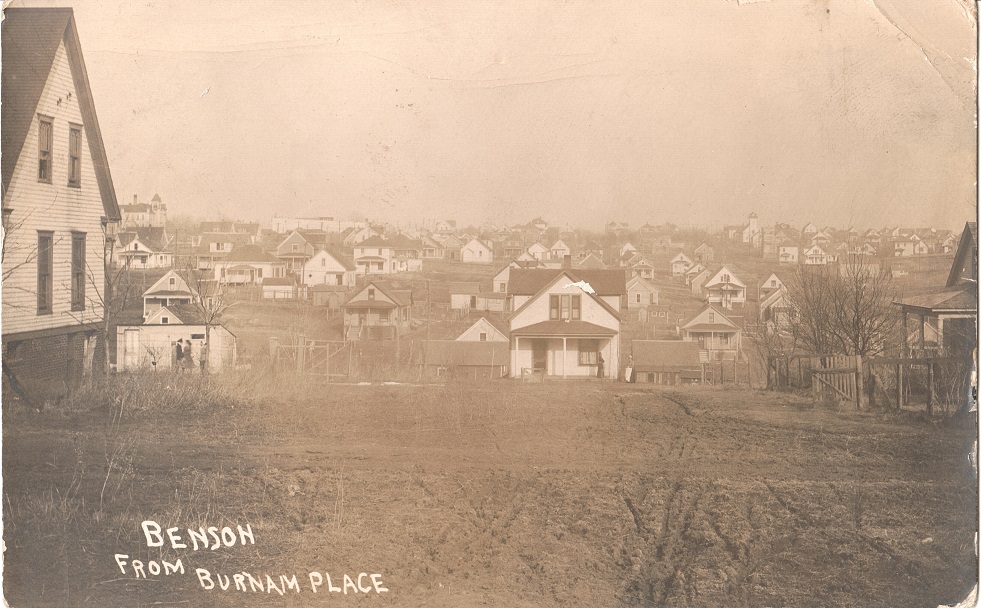 And here's the back:
The postcard is postmarked February 1919 (or maybe 1910?).
The text reads:
Mr. Willie Pearson

Dear cousins,

Received your picture thanking you for the same. Are all well. Wish you the same.

E.H. Olson
A bit of Googling reveals that "Benson" is an Omaha neighborhood and if you squint real hard at the postmark, it's possible that the card was sent from Omaha. Benson eventually was annexed into Omaha in 1917. So it makes sense that the photo looks like a bunch of new-ish houses in a new-ish suburban neighborhood (no trees yet!).
Who is cousin E.H. Olson? A search through the family tree has no such person. Is he a cousin to Will or to Clara? I'm really confident in what I know about Clara's parents, A.G. and Gustafva Brodd. There aren't any mystery Olsons lurking on that side of the family, I can be fairly sure. As for Will's parents, I think we know quite a bit about the Pearson clan. No Olsons there either.
That leaves Will's mother, Johanna Nilsdotter Pearson. I know she came to America by herself in 1873. Her father's name was Nils Olsson. Is is possible that she had family here in America – possibly in Omaha?
I was able to solve this mystery, but it turns out that my hunch was right for the wrong reason.
Stay tuned!