I was too tired last night to write about our big day on Sunday, so this combined post will summarize both yesterday and today.
Yesterday morning, our B&B host gave us the complete tour of the Leslie Castle, including a trip all the way up to the roof for a panoramic view of the Leslie area.
After packing up and thanking or host, we drove toward the nearby town of Insch to take a hike up to the Dunnideer Hillfort, an ancient ruined castle. It is visible throughout the countryside and would have been a familiar silhouette to my ancestors.
While at the top, we met a young man from a nearby farm. He had recently graduated from college with a degree in engineering and was soon going off to work at his new job in Glasgow. It was fun to compare notes about our common background and interests.
Then we took off toward Crieff, the town where the Campbell and Tainsh families lived. The car's GPS kept pushing us off the obvious route so it we ingnored it. Turns out, it was trying to help us avoid a giant traffic jam. That was about 40 minutes of our lives that we'll never get back.
Our next stop was the library at Innerpeffray, not too far from Crieff. It is the oldest lending library in Britain. It was founded in the late 1600's by a wealthy landowner who wanted to open up his collection of books to the people living nearby (a revolutionary idea at the time). They have kept all the "borrower's registers", and anyone with ancestors from this area is encouraged to visit and see if your ancestors' names are in the register.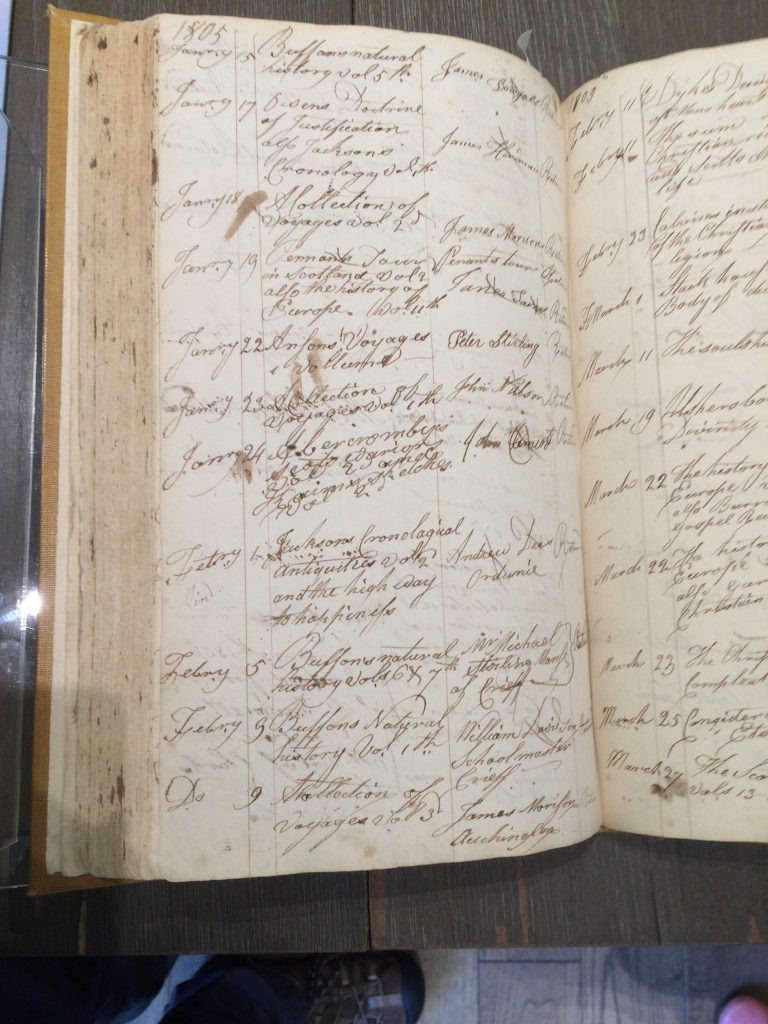 I had corresponded with the library in advance and was delighted to learn that there were several entries from a James Tainsh in 1805 and 1806. I was able to inspect the borrower's register and see the books that James had checked out. On one occasion, there was both a James Tainsh and a William Tainsh checking out books.
I will write in more detail another time about the different books that James checked out – but he was interested in world history, current affairs, and religion. And he returned all the books he checked out (as indeed nearly all the borrowers at Innerpeffray did). I have a list of all the books and many of them are available online through Google books or archive.org.
James Tainsh is either the father or brother of my 4x-great-grandmother Elizabeth Tainsh. I will try to confirm this when I'm back at ScotlandsPeople for the last day tomorrow. No matter how he is related to me, it was quite a thrill to have such a detailed peek into the lives of my ancestors.
After Innerpeffray, we made our way to the Famous Grouse Experience for the obligatory distillery tour and scotch tasting. Kind of fun to learn about barley malting, fermenting, distilling and casking.
The end of the day was driving back into Edinburgh and returning the car. Two days of wrong-side-of-the-road driving is about all we could take, I think. The rental car return was at the Waverley train station and we took a wrong turn on the way out, and ended up having to carry our luggage up the News Steps.
Today was finally an unstructured day to sleep in and then see the sights of Edinburgh. We walked up to the Edinburgh Castle and then the entire length of the Royal Mile, toured around the Scottich Parliament, grabbed lunch at the Guildford Arms near the Reigster House, and then walked up to Carlton Hill for a panoramic view of the city from the Nelson Monument. I wonder how many miles we walked today…