I think I've uncovered a family secret buried for over 150 years. Or maybe it's a fact that's been just conveniently forgotten or not mentioned…
My great-great-great-grandparents Andrew Frasier and Ann Campbell began their married lives together in Wisconsin. Both were immigrants from Scotland. Ann came with her family in 1831 when she was just two years old. The family lived in New York for several years before moving to Wisconsin. I don't know what they did in New York, nor do I know why they moved to Wisconsin.
The family appears in the 1850 census. Note the last family member listed: John Miller. He is two years old, the only family member born in Wisconsin, and has a different surname.
Andrew Frasier came to America as a single man, sometime between 1855 and 1857. I don't know how or why he ended up in Wisconsin, but he and Ann were married sometime in 1857. Their first child, Edward Alexander Frasier, was my great-great-grandfather.
This family appears in the 1860 census. We see Andrew and Ann plus their first two children, Edward and Margarette. Once again John Miller is listed, this time as an 11-year-old.
Who was John Miller? He was Ann's son from a previous relationship. He was a half sibling to Edward, Margarette and Ella Frasier.
A descendant of John Miller has posted a family tree online that shows John Miller's parents as Ann Campbell and James Miller. I made contact with her and she confirmed that a photo that I posted previously is in fact the wife and daughters of John Miller.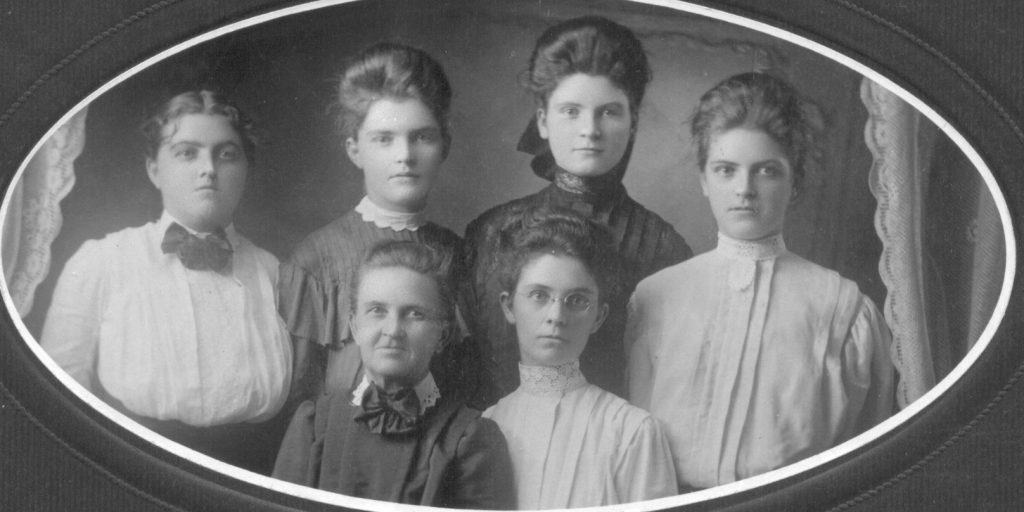 Actually, the evidence has been in front of us all along. Going back through my collection of Frasier family letters, there was the letter from Mabel Miller to her Uncle Ed that initially raised my suspicions. And then there was a letter from Ella Frasier to her sister-in-law Ida and her niece Nellie in which Ella specifically refers to "brother John".
So it wasn't too deep a secret – clearly Ann's children all knew about it, and apparently some of the grandkids knew too. But it wasn't something that was captured in the family history information that my great-grandmother Lola wrote down.
The Miller family settled in La Crosse, Wisconsin and some of the descendants live there still. I don't have any information on who James Miller was (still waiting for details from the person I made contact with).
John Miller served in the Civil War and was wounded, imprisoned, escaped and re-captured – so maybe one of these days I'll find more of the story to tell about these rediscovered cousins.
Families can be complicated, can't they?